Have you or someone you know been adversely affected by the Pandemic?
The pandemic has adversely affected so many people; in so many ways, from health to employment, etc.
Phoenix TS would like to help out by donating a free training class to two individuals who truly deserve it.
However; there is a couple of catches, but good catches, all good!
The only thing we require is that the 2 awardees Pay It Forward by offering two random act of kindness to 2 individuals each....or (4 total).....
......and then in turn those 4 then give a random act of kindness to 2 individuals each or (8 total).....and so on and so on….16, 32, 64 ....on and on…..as far as kindness will travel.

The idea is to start a ripple effect of goodwill that touches everyone in its path with kindness, when someone pays it forward it will inspire others to do the same.
We'll also require your feedback so we can report the snowballing generosity on our social media and website.

This way we can all watch the journey of kindness together. 😊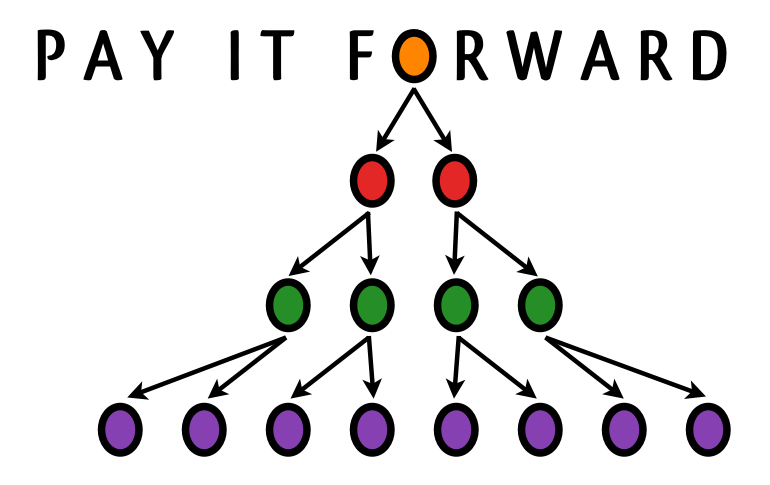 Ways to pay it forward are all around us!
Here are some ideas to get you started
Do a good deed for a stranger
Pay for someone's coffee
Cleanup your neighborhood
Ask for donations instead of gifts (i.e., for your birthday)
Toss some spare change into a vending machine for the next person
Leave a good book behind for someone else to read
Just simply smile at someone and look at how quickly their face lights up
Take a moment to just listen to someone who is having a rough day
Leave encouraging messages on post-it notes for your colleagues, friends, and family
Return a wandering grocery cart to the store
Compliment a stranger
Leave coupons for someone else to use in the grocery store
Carry someone's groceries
Loan something to someone
Give up your seat to someone in need
Let someone go in front of you in line
Write a positive review for a local business
Hold the door open for someone
Offer to help without expecting something in return
Donate blood
Volunteer
Make a meal for someone in need
Make care packages for those in need
Send a card to a hospitalized child
Donate supplies to a school
Offer to go to the store or run an errand for someone
Say thank you to someone who made a difference in your life that day
Take the time to write a real letter instead of texting to let someone know you're thinking about them