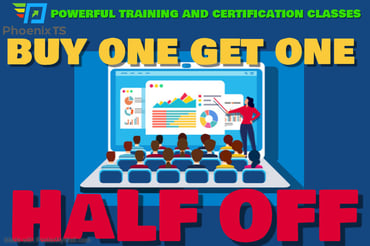 Phoenix TS is offering its lowest prices ever on expert instructor led LIVE ONLINE training.
For a limited time only purchase a Phoenix TS Live Online class and get a 2nd Live Online class for 50% OFF!
(terms and conditions apply**)
Can't attend both courses yourself? Courses under this promotion are fully transferable, so you can give the gift of training to a friend or co-worker!
--------------------------
Rave Reviews from Recent Students!
"Excellent instructor, very knowledgeable and has an enormous amount of IT experience. We had this course remotely, due to the COVID-19. The Adobe Connect browser configuration worked great. I'm looking forward to some more DoD Security training from Phoenix TS." - Practical Packet Analysis Student
"I was very impressed with Phoenix TS' ability to transition from the onsite class to a virtual class. The links that instructor provided for the labs worked on the laptops that were provided with no issues. The instructor did a fantastic job engaging the class. I felt that I was apart of the class and the instructor was able to answer all the questions we had. Thank you for a great course." - Practical Packet Analysis Student
"This is the second time I have taken a course from Markus Lawrence. Both have been great experiences. Markus is a fantastic instructor and a true professional at his job. Although the course was disrupted with the COVID-19 pandemic, we were still able to meet the course objectives." - PM for IT Student